Oregon Beds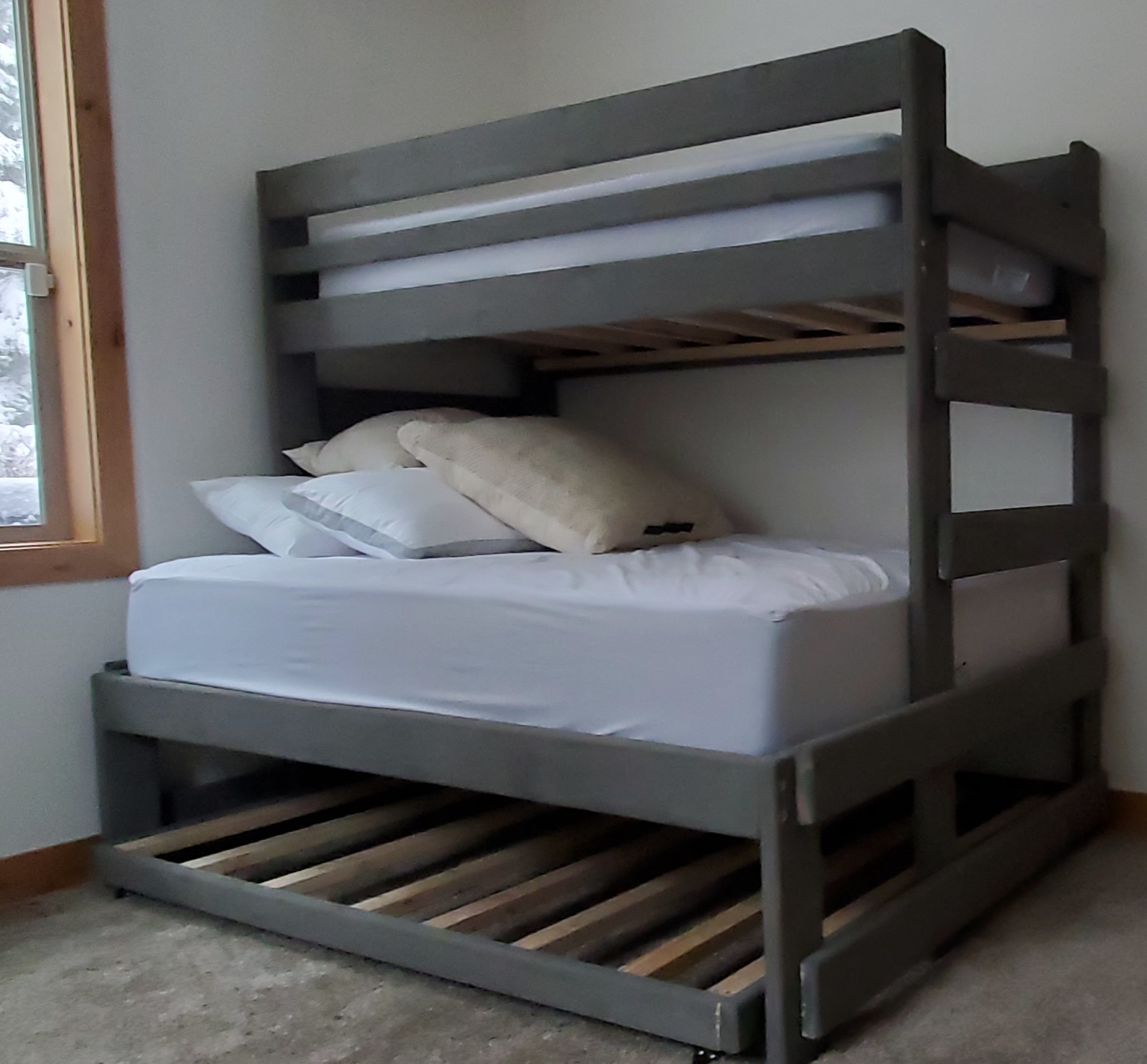 Welcome to Oregonbeds, your premier destination for expertly crafted and customizable bunk beds and loft solutions in Portland, Oregon. Since our establishment in 2011, we have been dedicated to satisfying bed, bunk bed, and loft buyers with our wide range of designs.

At Oregonbeds, we specialize in building the heaviest duty beds on the market. Our beds are constructed entirely out of solid wood, kiln-dried, select grade 2x6 Ponderosa Pine. Handpicked and specially ordered for our designs, these beds are built to last. We prioritize the comfort and safety of our customers, ensuring that our beds are structurally sound and suitable for all body types, weights, and sizes. Each board is meticulously hand-sanded and routered for both aesthetics and safety.

We proudly offer a lifetime warranty on our beds because we stand behind their quality and durability. Unlike the flimsy, short-lived alternatives found in big box stores, our beds are built to last a lifetime.

Choose Oregonbeds over the competition for our extensive selection of designs and our commitment to creating new ones based on your needs. With the fastest turnaround time in the industry, we ensure that you get your dream bed without unnecessary delays. Our beds are solid, sanded, and feature rounded corners. Additionally, they come equipped with all the necessary safety features as per federal regulations, providing you with peace of mind. We take pride in meeting and exceeding safety standards, as we have witnessed some sellers offering dangerous products.

As an eco-friendly local small business, we are dedicated to providing affordable beds without compromising on quality. We prioritize your family's health and safety by using only the best materials. You will never find any particle board in our products, and when we do use plywood, it is manufactured with soy-based purebond technology that is formaldehyde-free, ensuring optimal air quality. Furthermore, our finishes are eco-friendly, utilizing non-toxic, zero VOC stain options from Ecos Paints. We also contribute to the local community by donating our scrap lumber to families in need for heating. To reduce waste, we offer paperless invoicing and provide setup instructions through our website.

Discover the perfect bunk bed or loft solution for your space today. Explore our gallery to see our exquisite designs and customization options. If you have any questions or specific requirements, feel free to contact us for professional advice and personalized assistance. Oregon Bunk and Loft Beds is here to transform your sleeping arrangements into functional and stylish solutions.
Products & Services
Here you can scroll through each category to browse the various products and services we offer.
Not seeing what you're looking for? Please feel free to
contact us
with any special requests that you have.
Turn Around Time
At Oregonbeds, we strive to provide exceptional service and deliver your customized bunk bed or loft solution in a timely manner. Our standard turnaround time for completion, from the date of processing, averages approximately 15 business days. Please note that processing begins once we receive payment and create an in-house invoice/job slip, which we will then confirm with you. Once confirmed, your order has been processed.

Given the nature of our products, which involve custom designs and handmade furniture, it is challenging to provide precise time frames. Factors such as current order volume and lumber/material shipments can impact completion times. However, we have consistently maintained an average turnaround time of approximately 15 business days for over three years.

Here's an overview of the process involved in fulfilling your order: After processing, I typically work on multiple orders simultaneously. Days 1-2 involve cutting all the boards to size, followed by sanding on days 3-4. Days 5-6 are dedicated to routering the corners, while staining takes place on days 7-8. Days 9-10 focus on assembling the pieces, followed by adding hardware and slats on day 11. At this point, we will contact you to schedule pick-up or delivery once your order is completed.

To ensure that our turnaround time remains as short as possible, we kindly request that you wait for the full 15 business days before inquiring about the status of your furniture manufacturer process. If your bunk beds are completed earlier than the approximate time, we will promptly contact you. By refraining from frequent status inquiries, we can allocate more time to fulfill current and potential customers' orders efficiently.

It's worth noting that our busiest times of the year, particularly the two months before and after Christmas, may experience higher order volumes, potentially extending completion times. We appreciate your understanding and consideration when placing your order during these periods.

As a testament to our commitment to craftsmanship and quality, we never cut corners and build each product with the same attention to detail as if it were for ourselves. While we understand the desire for precise deadlines, we assure you that we are doing our best to fulfill orders in the order received as swiftly as possible.

After 15 business days have passed, please feel free to send us a text inquiry, including your in-house invoice number, and we will respond as soon as we are able. Your satisfaction is our priority, and we appreciate your patience throughout the process.


Step-by-Step Bunk Bed Setup Guide
Regardless of the design style of the bed purchased from us, they all go together basically the same way.

What You Will Need
• A helper to hold the rails up
• Corded power drill with a 7/16 nut driver and a Phillips bit
• Approximately 20 minutes

What's Included with Your Bed
• Bed Ends (head and foot with a built-in ladder)
• Safety Rails (combination of 2x6 and 2x3)
• Support Rails (looks like a safety rail with a 2x3 attached inside for slats to rest on)
• Slats
• Lag Bolts and Washers (silver) for the support rails (go into the countersunk holes)
• Phillips Head Screws (black) for the safety rails

Note: For the attached loft or bunk design
• Before setting up the first bunk or loft, identify the support rail and the safety rail that have holes predrilled through the face of them. They need to be attached to the outside of the bed.
• Set up the first freestanding bed using the basic set-up procedure. When you start putting together the attached bed, start with a support rail, attach it to the ladder, then attach it to the freestanding bed's support rail.
• Continue with the next support and safety rails until completion.

Step-by-Step Instructions
1. Position the Bed: Place the bed in its approximate location.
2. Prepare Bolts and Screws: For the support rails, use 4" silver lag bolts with washers and insert them into the countersunk holes (bigger holes). For the safety rails, use long Phillips screws and insert them into the predrilled holes.
3. Start with Support Rails: Have a helper hold the support rail up, and using the corded power drill, screw the top lag bolt into the rail. You should see a slight indent or mark on the end of the rail, indicating where the top lag bolt goes. If you don't see one, you can estimate about 1.5" from the top.
4. Secure the Top Lags: Tighten the top lag bolts on both sides of the rail.
5. Adjust the Support Rail: Once the top lags are in, adjust the support rail to make sure it is straight before stabilizing it with the bottom lags.
6. Attach Safety Rails: Use the same method as the supports to attach the safety rails.
7. Finalize the Setup: Lay the slats and mattress on the bed, attach cubbies, and, if applicable, run a couple of screws through the bed into the steps to keep them from moving.
8. Need Help? If you have any questions or need assistance with your setup, feel free to email us at sales@oregonbeds.com.



Here is a short video demonstrating how easy it is.